Sound card NeoGS for ZXBUS (ZX Evolution)!
WARNING! NeoGS sold and supplied by Vitaliy tetroid@inbox.ru.
---
Photos by: Aleksey Kurepin.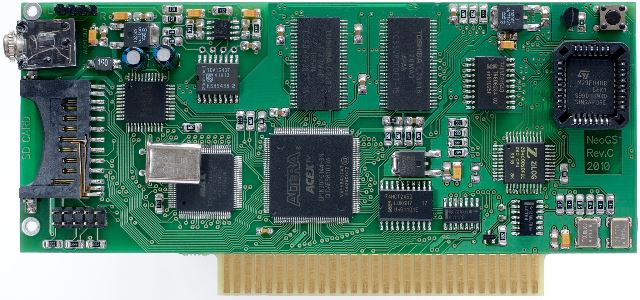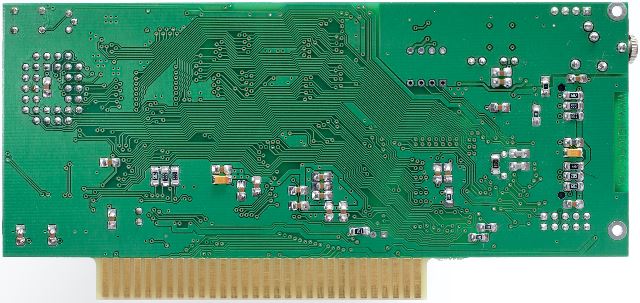 Sound card NeoGS appropriate for playing trackers (MOD) and compressed (MP3) music on Spectrum-compatible computers with ZXBUS slot.
Design:
hardware: Vadim Akimov (LVD), Roman Chunin (CHRV), Vyacheslav Savenkov (Savelij), Alexej Ghabin (KOE), Vasilij Klimov (JTN);
software: Vyacheslav Savenkov (Savelij).
Features:
Compatible with General Sound (GS);
Flexible scheme, based on fpga (Altera EP1K30);
4Mbytes RAM, 512Kbytes flash-ROM;
Extended techniques of memory addressing: 2 memory windows in visible area, exclude ROM from visible area;
Z80 frequency modes (10, 12, 20 and 24 Mhz);
Support up to 8 sound channels (for MOD);
SPI mp3-decoder (like VS1011);
SD-card SPI interface;
DMA to NeoGS memory (transfer data from ZX to NeoGS by instructions LDI, LDIR and similar);
Parallel working (NeoGS play music indepedently from ZX).
Upgrades:
Firmware 15.06.2013 here.
Fast up module loading. CPU frequency 20MHz on startup. And other fixes.
Firmware 19.01.2011 here.
Support NeoGS with 4Мb RAM.
Firmware 03.07.2009 here.
DMA mode. Loader from SD card.
Upgrade 03.11.2008 here.
Documentation:
Support forum here.
Principal scheme (revision C) here.
Montage scheme (revision C) here.
User manual (revision C) here.
Hardware sources here [PCAD2002] (not used for commercial purposes).
Update firmware manual (revision C) here.
Firmwares (revision C) here.
Neo Player Light for playing mp3 music on NeoGS here.
Sources of fpga firmwares here.
"NeoGS" programming manual here and header file with defines of NeoGS ports here.
"General Sound" programming manual here.
Sources mirror (SVN) accessed from ZXEVO.RU.
ROM file for writing to EEPROM chip (from SVN): full_ngs.rom.
Prices: here.
Software:
Neo Player Light mp3 and mod player for NeoGS here.
Neo8Tracker mod tracker/editor for NeoGS here.
Z-PLAYER mod player for NeoGS here.
General Sound games and utilities on VTRDOS site here.
Music disk images on ZXAAA site here.
History:
Revision C:
Decrease board height (to 61mm).
Increase RAM to 4Mb.
Add RESET jumper (provide reset from ZX mainboard if shorted).
Change some electric parts (fpga firmware is compatible with previous version).
Revision B:
Thanks for project sponsors: GoodBoy, Valeron, Mick!
Fixed some errors.
Add 3.5' audio jack.
Remove "warm start" button.
Revision A:
---
Email: nedopc@mail.ru, nedopc@yandex.ru.